Positive Training for Positive Results
Healthy Pet Dog Training is a professional dog obedience training establishment in Aurora. We provide private and group training classes, basic and advanced obedience classes, therapy and emotional support classes, manners training classes, and puppy training classes. Our dog trainers are certified practitioners that specialize in dealing with behavioral problems without the application of fear, pain, or intimidation so that dogs may have fun with the learning experience and maintain their knowledge. Set up an appointment request on our site or give us a ring at (630) 851-5187 with any questions.
Style: Balanced Training, Positive Reinforcement
Basic Obedience Training:
Sundays: Enrollment Ongoing 11am - 12pm
Basic Obedience includes:
- Proper socialization
- Recall
- Place
- Crate training (different from potty training)
- Leave it
- And other commands as dogs progress their skills
Basic Manners Training:
Thursdays: Enrollment Ongoing 6:30pm – 7:30pm
Basic Manners includes:
- Proper socialization
- Barking at everyone or at all dogs
- Jumping on or lunging at people or other dogs
- Crate training (different from potty training)
- Food guarding and begging
- Whining or crying
- Submissive urination
Puppy Training Classes:
Sundays: Enrollment Ongoing 12:30pm - 1:30pm
Puppy Classes includes:
- Housetraining
- Proper socialization
- Recall
- Place
- Crate training (different from potty training)
- Leave it
- And other commands as dogs progress their skills
Therapy or Emotional Support Dog Training:
Sundays: Enrollment Ongoing 2:00pm – 3:00pm
Must have passed Basic Obedience or test with Tiffany to show mastery of basic skills
Includes skills building such as recognizing a person's anxiety or sadness.
We will be using Klimb platforms and Kuranda cots during class.
Ask our Trainer about training your dog to use pre-recorded buttons to make requests!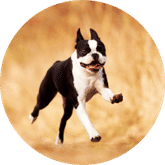 Manners Training
We train to correct aggressiveness and also other hazardous behaviors such as area aggressiveness, are afraid aggressiveness, food securing and also begging, grumbling, sobbing, and also submissing urination. We make sure your canine is in a risk-free setting to make them really feel comfy while discovering their brand-new skills.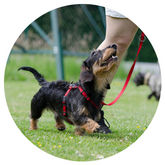 Beginner Training
Beginner training for dogs is vital. Dogs aim to please, so with these beginner methods and also strategies, they will certainly give your dog's possibilities to make you happy. Our courses start with the conventional sit, stay and come. Yet as your dog breakthroughs, we offer a lot more challenging demands that are offered in our various other programs! These are made to keep your pet dog engaged and on their toes.


Behavior Modification
Here at Healthy Pet Aurora, we focus on pet behavior modification. Dog behavior modification is where we alter existing pet dog behavior. This includes yet is not restricted to training in or modifying chain rules, eating, pet source protecting, barking, splitting up anxiety, leash lunging, chain hostility, dog-on-dog aggression, and also pet dog to human hostility.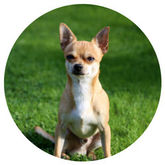 House Breaking & Potty Training
House training your young puppy is about uniformity, perseverance, and also favorable support. The goal is to impart good routines and construct a caring bond with your pet.
Experts recommend that you begin home training your puppy when they are between 12 weeks and 16 weeks old. Then, they have adequate control of their bladder as well as bowel movements to learn to hold it. With Healthy Pet Aurora's expertise, we provide you the tools and also techniques to finest residence train your new furever friend.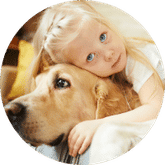 Therapy or Emotional Support Dog Training
Therapy training is a great activity for dogs of any age. Engaging for both you and your dog, therapy dog training is fun and rewarding. Whether to assist you more at home, to visit hospitals and schools, or just to continue training, our trainers can help you build a stronger bond with your dog.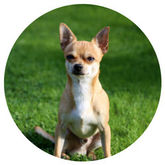 Puppy Training
Signing up in pup courses before three months old can be an superb means of enhancing training, reinforcing the human-animal bond, and interacting socially puppies in an setting where risk of health problem can be lessened. As a whole, young puppies can start puppy socialization courses as very early as 7-8 weeks old. Young puppy socialization classes provide a risk-free as well as organized ways of interacting socially puppies and also faster enhance their responsiveness to requests. Early and also ample pup socialization and programs of positive pet training can go a long way to preventing actions troubles and also boosting bonding between humans and also dogs. While the very first three months is the most essential young puppy socialization period in a young puppy's life, proprietors of puppies that have actually passed this turning point are strongly urged to remain to socialize their puppies to as many people, animals, and also locations as functional.

Come visit our pet supply store in Aurora, IL specializing in quality food, treats, and supplies for cats and dogs. You can Order Online 24/7 & We Offer Local Delivery